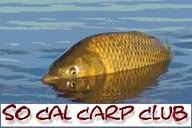 Club Store
Lake Perris December 2008

Wasn't able to spend the night Saturday so made it to the lake late Sunday morning to find the majority of the members already there and fishing/setting up. Said hello and I was driving to a spot to setup, I drive into a canyon and get stuck. Seems the recent rains made its way into the lake while creating a mini Grand Canyon in areas. Just want to say thanks to Jon and Smifster for freeing my car! Dropped my gear next to Jon, parked the car and got set up.

As what seems is becoming tradition, Karl's better half Carol drew first blood around 7:15am with a 9lber. Although a few fish were seen jumping further out it looked like it was going to be another great derby at Perris. Not today. A lot of beeps on the bite alarms, a few small runs and that was about it until Jered hooked into and landed a 20.03lber, nice! But to make a long day short, that was it. Results:

1st Place - Jered, 20.03lber (JP Fish)
2nd Place - Carol, 9.00lber

3rd Place - Austrian, Steve Ruck, Smifster, Matty, Karl, Neil, Karl's son (sorry, didn't get his name), Jon, Heather, Wayne, David and myself.

It was a tough derby but as always, it was great seeing everyone. Very fun! I don't have any pics but I know a lot were taken and hopefully they'll be posted shortly. Again, it was a blast, can't wait for the next one and a Happy and Safe Holidays to all!

Cheers,
One Beep Wonder!

Edit:
A special thanks to Jered for donating his JP winnings back to the club for the kids and upkeep. Thanks Jered!
Lake Perris November 2008

This month's derby turned out to be a good one. Most of the members made a weekend out of it and met at the lake's campground on Saturday. On derby-day, most of us set up their gear on the lake's beach while some folks were still reported missing...
The first 3 hours were pretty quiet until Carol landed the first fish, a nice 17 lb-er. Shortly thereafter Heather landed a 3 lb-er. At this point it looked like the ladies had their own competition going while everybody else around them was just staring at their bite alarms...
Well, in the next 5 hours Karl hooked into a nice 24 lb-er, then into a 21 lb-er, a 14 lb-er and a 9 lb-er.
Meanwhile, Jered, Vedat and his Dad got set up at the dam area and soon started reporting... Vedat's Dad got on the board with a 21 lb-er. After a couple of lost fish, Jered joined the board with a 18 lb-er.
Then it was Heather again (after returning from a trip home caused by a park ranger..) with a 16 lb-er.
So far so good. There were only 10 minutes to go, as Jered hooked up again. I got my list and pen ready, awaiting Jered's call, as my bite alarm started to scream... Jered had landed a 17 lb-er while I was still fighting mine. It turned out to be my new PB, weighting in at 25-14.
There were a total of 11 fish caught, totaling over 190 lbs with an average weight of more than 17 lbs.
A big congrats to Karl, who was dismantling the field and finished on top of the podium.

Here are the results:

1st Place - Karl - 24-4, 21-5, 14-10, 9-8 - Total of 69-11 !!!
2nd Place - Jered - 18-7, 17-7 - Total of 35-14
3rd Place - Tom (Austrian) - 25-14
4th Place - Vedat's Dad - 21-9
5th Place - Heather (Mrs. Fishstories) - 3-8, 16-0 - Total of 19-8
6th Place - Carol - 17-13
7th Place - Dave (Uh-huh), Jon (FishstoriesJr), Vedat, Stuart (oldschool)

As always, it was great seeing and fishing with everyone!
Stay tuned for next month's derby and we hope to see you all there!
El Dorado October 2008

Arrived at a very foggy lake greeted by Gonefishing. Didn't know that Austrian and Oldschool were at another lake. Not knowing this we were wondering where everyone was...... Well, it was good to fish with Charles again because it has been way too long. The morning was slow which is strange for this lake so it gave us time to catch up on old times and just BS with one another. Hours passed and we didn't see any other members so we were talking about going to Hennesey's at Seal Beach for some breakfast... Eventually other members started to show up. Unfortunately, it did not matter... Only one fish was landed today (with a few lost) by Oldschool - results are: 1st Place - Oldschool - 15.07lbs 2nd Place - Gonefishing, Carpassasin, Carpinator, Longshort (and family), Jered, Austrian, soon to be new member Mark and myself. It was tough fishing, although it shouldn't have been, but... Hope to see everyone next month!
Irvine Lake September 2008

This month's Derby and MLC Event was held at Irvine Lake and was open for an exciting 18 hours (06:00am-12:00pm). We were spread out along the 'Santiago Flats' in three groups - Evan (EJB), Jered and Marne (long short) fished the very back corner of the flats - Dave (Uh_huh), Jae and Claudia were fishing midway into the cove - Stuart (oldschool), Jon (FishstoriesJr), Heather (Mrsfishstories), Rick (chpcode3) and I were fishing at the point of the cove. In the early hours, it looked like a promising day for everyone, because fish were jumping all over the cove. Well, looks can be deceiving... In the end, it turned out to be a very tough day for most of us, with the exception of Evan and Jered, who were the only ones to land some carp. The group I was part of had a total of four runs, of which one could have been a carp - but Stuart's leader broke. Since the communication between the groups wasn't an easy task (no radios, hardly any cellphone reception), I will just post the results and hopefully others can add on their stories and pics... Results: 1st Place - Evan (EJB) - 5 fish for 55.2lbs (15.13, 11.10, 10.10, 8.8, 8.9) 2nd Place - Jered - 1 fish for 8.8lbs 3rd Place for attending: Marne, Dave, Claudia, Jae, Rick, Stuart, Jon, Heather and myself. A big congrats to Evan for winning this one (incl. JP) and to Jered for finishing second. It was great seeing you guys again. We hope to see everyone soon at the next derby.
Group shot

Big Bear July 2008

Once again, as always, the kids of the SCCC ruled the annual Big Bear derby....but more on that later.

It was good to see a nice group of club members attend this year's event. We were lucky enough to have some relatively newer members, Allen and Jerry, come up and have fun with us, as well as first time derby attendee, Stuart (oldschool). Great additions to an already great club!!!

Sunday morning saw 17 of us enjoying the Big Bear sunrise and trying to take the lake apart. Unfortunately, save for a few exceptions, Big Bear was unusually stingy in it's catch. However, the weather was great, the company was even better, and all had a good time. In terms of carping gear, I think we saw lightline setups, medium setups, euro setups, floatrod setups, an asian canepole setup, and Karl's 50 ft. matchrod setup. If you didn't learn something new about carping that day, you weren't awake!!!

The results of the derby are as follows.....starting with the stars of the day, Matt and Abigail Smith. Matty placed first with a 4 carp catch for a total of 24.12lbs! That was more than 10 other members catch....COMBINED!!! Congrats Matt, a great accomplishment! Abigail placed second with a 4 carp catch for a total of 18.08lbs! Again, you could've added quite a few other members catches together and it wouldn't have added up to that total! For their outstanding results, both were awarded gift certificates to Toys R Us (something other than carp-related things so they hopefully get distracted and don't keep kicking our collective butts during derbies), Abigail received a Fishopoly board game donated by Jon and Heather (thanks!!!), and a few bits and bobs from the club. In addition, Matty also caught the Jackpot fish at 7.04lbs for the jackpot prize! I don't know how much he won, but with all the prizes he earned, he could barely handle all the cash!

As for the adults, nothing new....it was Tom dismantling the field for the first derby win of this year's club season. Tom won with a 14 fish catch totalling 48.03lbs! This was 9 carp better than anyone else on the day. Also with that, Tom earned top points for the MLC competition, for which he was already ranked in the top 3 nationally. Tom also received a Bulgarian 1 Carp bill (official, non-circulated currency in Bulgaria) as a memento of his Big Bear win. Congrats Tom! It's getting to be a bad habit!

The rest of the field:

2nd: Stuart (oldschool) 19.02lbs Great debut!

3rd: Brian (carpdog) 18.04lbs

4th: Jon 13.12lbs

5th: Heather 6.08lbs

6th Vedat, 7th Carol, 8th David (smifster), 9th Karl, 10th Joe, Alan, Jerry, Dave, and Sco
Tom's 14lb 15oz fish...

Carp Masters Classics 2008

Those that made this years Classic Derby met at Yorba Regional Park before the gates were opened. Six o'clock rolled around and the lines were in the water and the ducks were fed. Some surface activity but not much, and the water temp was very warm at this very shallow lake. It was a very beautiful morning but if you were in the sun, it was already getting warm and we all knew it was going to be a very hot day. Turns out the lake we were all fishing was just stocked with catfish the previous Thursday so we were expecting a bunch of kitties.

Brian (Carpdog) started the action with, you guessed it, the first catfish of the day. A little after that my swinger goes up and I'm hooked into a catfish. Then nothing. Jered, then Brian and then Tom (Austrian) head over to lake #3. Hours go by with no action when the family arrived. Asked Claudia to watch my stuff while I take a bathroom break and afterwards, decided to check on the guys to see if they were having any luck. Turns out Brian lost a good fish, Jered I think lost two but landed a 3.14lber and Tom was fighting one on 2lb test. After Brian netted the fish it weighed in at 14.15lbs. Left the guys to go back to find that nothing is going on. Marne (longshort) lands a kitty, Vedat hooks into a bass that broke him off and I get one more catfish. Towards the end of the derby Marne hooks into a carp but breaks off. And that was it, derby was over.

Final tally is as follows:

1st Place: Tom (Austrian) - 15.14lbs (JP Fish).

2nd Place: Jered - 3.14, 10.05lbs - Total weight of 14.03lbs.

3rd Place: Brian, Joe, Kristen, Smifster, Kelly, Vedat, Marne, Evan and myself.

I want to take this time to congratulate Tom "Austrian" Hackel for not only winning this years Classic Derby and donating the JP winnings back to the club for the kids program, but also being this years SCCC Carper of the Year with the most points earned throughout the years derbies. Well deserved my friend!
Vedat's Jackpot fish...

Puddingstone May 2008

For this month's derby, Puddingstone Lake rewarded the carpers who chose to suffer in the 90+ degree heat with no shade. Congrats to you and hopefully there was still some aloe vera gel left somewhere to soothe the red as a beet sunburns!

Fishing today were Jered, Vedat, Brian (carpdog), Joe (TallNBritish) and his much, much, better half, Kristen (imHereForTheFish), Tom (Austrian), Marne (Long Short), newer members Allen and Jerry, and myself...dragging up the rear as always. Fun group of people to be with!

Well, Jered, Vedat, and Brian decided to group up together, while the rest of us chose the shadier areas of the Pudd. While those three landed a total of 6 carp, and lost several others, the rest of us got to watch a re-creation of the Titanic sinking (and we're not referring to the boat, but rather the 2 passengers that managed to sink a rental paddleboat), and another paddleboat where a mom couldn't steer and guided her boat back and forth across Tom, Allen, and Jerry's lines (until her 3 year old daughter took over the steering and got them out of there, LOL!!!).

This month's winner was Brian, with 2 carp at 18.12 and 17.05 for a total of 36.01lbs.

Vedat was second with 2 carp at 21-7 and 14-8, for a total of 35.15lbs (2 oz difference!) and the jackpot big fish winnter.

Jered placed with 2 carp at 17-7 and 8-11, for a total of 26.02lbs.
Tom's Jackpot fish ...

Peck April 2008

From what I was told it was very hot and the fishing was good for some while non existant for others, with a bunch of fish lost to snags. Since I wasn't there I'll just post the results:

1st Place - Tom (Austrian) - 7.11, 20.10, 14.15 - Total weight of 43.04lbs + JP Fish!
2nd Place - Vedat - 10.08, 12.00, 12.10 - Total weight of 35.02lbs
3rd Place - Jered, Wayne, Longshort, RhinoLT & Stuart (Oldschool) for toughing it out in the heat that's called the PIT! Congrats to you all!
Evan's Jackpot fish and new PB...

Lake Perris March 2008

Those that attended this month's derby at Lake Perris all met at the dam area, dropped off gear, parked their cars back in the lot and raced back to set up. Still dark when everyone was setting up their gear with fish jumping both close and far. I get lucky as while I'm setting up my 2nd setup to cast, the 1st setup already in the water takes off literally minutes after being cast. After a very nice fight on 15lb P-Line CXX a 25.14lber comes to net. Good first fish and it looks like it's going to be a really good day. Hours go by and nothing even though carp are jumping both close, far and very far out. Looked like the usual curse with our derbies - early morning bite - but at 10:23 Evan (EJB) gets a screaming run! He's using a medium setup and the fish came in rather quickly so it can't be THAT big. WRONG! This bad girl weighed in at 28.02lbs! At about this time everyone started passing Evan the JP money. Oh, and congrats Evan on your new official PB, nicely done!
It gets quiet again so everyone is mingling, talking tactics, talking crap - usual derby stuff when Evan get's another run. This one was taking line like it wasn't hooked! Nice. This girl comes to net to weigh in at 11.12lbs. Not what we were expecting but still a nice carp. Again, carp are still jumping but further out, beyond casting distance when out of nowhere, the Austrian, Tom, hooks up! About time if you ask me... After a nice battle Tom brings to net a 19.09lber just before noon. Great job Tom! The afternoon came and the bite died. Unfortunately the wind kicked up from every direction, thick cumulus clouds kept us warm and cold, occasional very short showers kept us wet and dry and of course, the always ignorant basser. But we were fortunate this time to run into one that was considerate and left quickly after throwing a top water jerk bait or a low diving crank bait (in other words, did not catch any of our lines), cranked the moter and SLOWLY left the swim. Don't know about the rest of you but this was a first for me. Then the derby was over. Results are the following:

1st Place - Evan (EJB) - 28.02, 11.12 - Two fish total of 39.14lbs!
2nd Place - Dave (uh_huh) - 25.14lbs
3rd Place - Tom (Austrian) - 19.09lbs

4th Place: Jered, Vedat, Joe, Marne and of course TroutDOG Brian!
Tom's Jackpot and new PB...

Yorba Regional February 2008

It was good to see all that attended this month's derby at Yorba. Although the rain wasn't present to help the usually thin Winter bite, several of the guys were able to hook into some really nice, urban lake carp!

Congrats to Marne for his first SCCC derby win!!! Marne is someone that is always trying new things: homemade baits, rigs, etc. This time he put everything together for the win...and to top it off, he left at 10am to attend family business!

The results:

Marne (long short): 16.05 and 14.12 for a total of 30.01

Tom (Austrian): 24.13 and winner of the bigfish jackpot!

Jered: 18.02

Evan: 17.12

Dave, Brian, and Sco: Ever present, but never catching, lol!

Kids (Caitlin, Brandon, and Johnny Rocky): Winners everytime!
Derby winner Uh_huh with his Jackpot fish...

Puddingstone January 2008

Woke up this morning expecting downpour and as usual, the teleprompter readers that are called "weather men" were wrong. Cool with me but put the rain gear on anyway and headed to the lake. We were originally all going to meet at the East Shore but because the meat eaters basically raped that area, we met at the Swim Beach. Brian (Carpdog) says that he's just landed a 14.06lber. Cool, but I replied by telling him I just landed a 27.03lber! What he said after that I will not post!An hour passes by and I get hit again. After a great fight a 23.05lber came to net (a couple of times). Don't have a pic but hopefully Vedat will post. This one fought harder than the bigger one. It's been too long since I heard the drag run for a while!
Everything got quiet for a while and around 1pm, the rain predictions came true. There were moments when the rain and wind made it "funny." As the rain was coming down Vedat got a run and landed a nice 17.03lber. All I remember is praying that the rain would stop at the end of the derby just so we could pack up and walk to our cars. Well one of the Gods heard and listened because once the derby was over, so did the rain!

Anyway, final results:

1st Place: Uh_Huh - 2 fish, 27.03, 23.05 - Total weight - 50.08lbs
2nd Place: Vedat - 1 fish - 17.03lbs
3rd Place: Brian - 1 fish - 14.06lbs
4th Place: Tom (Austrian), Adrian (ADM), Jon & Heather (Mr. & Mrs. FishstoriesJR), Jered, Evan (EJB) & Sco.

As always it was great seeing everyone that was retarded enough to come out in these conditions just to fish for some little carp! Can't wait to do it again!