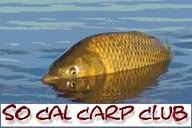 Club Store
Jered's Winning fish...

El Dorado December 2007

The morning started off as we gathered in front of the El Dorado gate, waiting for the park to open. We had the pleasure of meeting one of our new members, Long short, who fit in perfectly with the group of us fishing today. Great to have you aboard Long short!
The group of us started the derby at lake 3, but it was soon abandoned once the traditional morning bite passed without a qualifer (Long short did land a trout though). One group headed to lake 4 while another went to lake 1. The winning catch would eventually come out of lake 4, with Jered landing an 11lb even common.
It looked like Jered's catch would be the only one on the boards until Tom switched to his float setup and landed a 7+lb common, good for second place. Both Vedat and Long short also hooked into lake 1 carp, but lost them in the fight.
Well, the winter (So Cal style) is definitely upon us. Surface water temperature was at a brisk 51 degrees, and the bite showed. Those that caught and hooked up did a great job today!!! Never the less, everyone had fun and look forward to our next derby, winter or no winter!

Results:

1st Place - Jered

2nd Place - Tom

Had fun - Brian, Evan, Vedat, Long short, uh_huh, Claudia, and myself.

Thank you Jered for donating your jackpot winnings towards the SCCC kids program!
Joe's Jackpot fish...

Lake Perris November 2007

For those that made the club's November derby at Lake Perris, we arrived to sunlight due to the change in hours this early morning. I've never seen so many non 4X4's drive through sand to unload gear and then drive back to park their cars and run back and set up!
All I'll write right now is that Tom is the MAN in the clubs derbies! He was the first one to hook up and the second one to hook up TEN MINUTES LATER! The only other member to give him a run for his money was Joe that hooked up 25 minutes after Tom's 2nd fish. But that was it. With the exception of Tom's last fish landed at 9am, it was very, very, VERY slow!
We had retarded wannabe sailors that did not give a shite about our lines in the water, meat eaters that didn't know how to cast, HEAT and some more heat!
Okay, and now the results:

1st Place - Tom (Austrian) - 3 fish total for 40.10lbs (15.03, 13.05, 12.02).
2nd Place - Joe (TallnBritish) - 1 fish total for 16.02lbs (JP fish).

Special appearances by: Brian, Jered, Vedat, Jon, Heather, Sco and myself. As usual it is always a pleasure to fish with members of the club. Although expectations were high today and the results not so high (except for one Austrian that believes there are no kangaroos in his homeland), it was great seeing everyone! Let's do it again next month!
BBQ time...

Big Bear July 2007

Sorry for the late post everyone. Had one ready last night after the long and scary drive home but I had a computer glitch and everything got erased, so I'll start from Saturday afternoon.
Met up with a few members at Boulder Bay to decide where we could fish and BBQ since the water level was so low. Checked out Capt John's Marina when we first got there to find the majority of the area muddy, hardly any water. So we decided to forget the fishing that night and let's just go have a good time (but only because Boulder Bay didn't have any BBQ grills!). Everyone went to secure a grill area while Sco/kids and I/family went to the market to get what was missing. Once we were done we were off to meet everyone else, and it was BBQ time!
Chuman took control of the grill while Austrian, wife and friend handled the propane grill they brought. We had Korean style ribs and pork along with some fresh trout Fishinfanatic315 caught for the charcoal grill and sausages, brats and hot dogs for the propane grill. Everyone was having a good 'ol time eating and drinking until the sun set and Chuman and wife realized that their car keys were missing. It was now a search and rescue mission for their keys! Chuman told me derby morning that it reminded him of a CSI episode because EVERYONE was looking. Not sure about everyone else but I felt pretty damn honored to be a part of a group that went out of their way to find a set of keys, and this is including the kids! To everyone there that night, . Well we didn't find the keys. I forget who took Chuman and his wife back to their hotel room but I told him that I would swing by in the morning, pick him up and go back to help look for the keys. With that everyone called it a night.
Derby morning. Chuman gives me a call and tells me that his friend drove up from LA and brought a spare set of keys for him. Great news! So after a quick trip to 7/11 for some coffee and donuts I was off to the derby spot. I was the first one there. I'm NEVER the first one!!! While setting up and putting a bit of food in the water other members started to arrive. Then it was derby time.
Ducks were fed but the first hour was slow. Then the fish started coming in with Austrian being the first to land, then Carpdog, then Vedat... The bite was pretty consistant throughout the day even with all of the distractions (boats, jet skis, unsupervised kids with rocks, people that didn't know how to cast - you get it). Surprisingly the bigger fish were landed by the kids, great job you guys! And just like that another derby was over. And the results:

Adults:

1st Place - Vedat 5 fish total of 25.07lbs (including 7lb JP fish), total weight of 43.12lbs! Congrats Vedat!
2nd Place - Uh_huh 5 fish total of 19.05lbs.
3rd Place - Nirvana Fan 5 fish total of 18.07lbs.
4th Place - Austrian 5 fish total of 15.01lbs, total weight of 17.01lbs.
5th Place - Carpdog 5 fish total of 13.09lbs.

6th Place - Claudia 2 fish total of 10.12lbs.
7th Place - Fishinfanatic315 2 fish total of 8.02lbs.
8th Place - Sco 1 fish total of 4.15lbs.
9th Place - Jaske02 1 fish total of 3.06lbs.
10th Place - Kelly 1 fish total of 3.00lbs.
11th Place - Chuman 2 fish total of 2.00lbs.
12th Place - Smifster, zero fish. But like Sco he hands off his fish to his kids, just less selfish!

Now for the stars of the derby, the Kids:

1st Place - Caitlyn 5 fish total of 22.15lbs, total weight of 26.03lbs!
2nd Place - Brandon 5 fish total of 22.03lbs!
3rd Place - Matty 2 fish total of 12.02lbs!
4th Place - Abigail 1 fish total of 6.00lbs!
5th Place - Caroline 1 fish total of 5.12lbs!
6th Place - Jordan 1 fish total of 3.06lbs!

Congrats everyone! Considering the size of the fish landed, our little group did well landing over 50 carp totaling more than 200lbs! Even though the place was packed, the weather was hot and humid, there were Corvettes everywhere - it's still Big Bear and it's always a great derby! Congrats to all of the winners and thank you to everyone that attended!
Carp Classic 2007

Well, I think if you were to poll the 9 carpers and their families about the event, I think we'd all say that we're glad it's over, lol!
Craig presented as a tough venue, once again, for the group of 9 carpers that qualified for this event. What made this Classics event very interesting was the change in format; 12 hours of fishing and the TOTAL weight being added to determine the Classics Champion.
Most of us started the day at 6am, the planned start time. However, about 45 minutes into the event, the park ranger came to visit and inform us that we were fishing the lake while the park was still closed. Well.....she first told this to Tom (Austrian), who then directed the park ranger to Jered and I, who then ratted Dave (Dave24) as the president of the group and pointed her in his direction, lol!!! The park ranger was VERY cool about it though, and allowed us to stay. After all she said, we were told by our president that it was okay to fish Craig at 6am; it wasn't our fault that we were abiding by Dave's rules!!!! Good thing you're running to Texas my friend!
Anyway, the morning bite was on fire, but hookups were very tough; line twitches, short/quick pulls, a few long pulls that didn't stick. Finally, Dave hooks up and lands the first qualifier of the day, a 1.11 common. Vedat then lands one at 3 even. Dave finishes off the day with a 3.09 and 3.13. Vedat added a last minute qualifier at 2.12. That was it!!! Most of the guys though, hooked into carp and lost them for differing reasons. I know some potential Classic and jackpot winners were either lost from "long range releases" or lost at the net. Bottom line though, Dave and Vedat were the ones that got their carp landed.
The rest of us were able to land numerous turtles, catfish, and sunfish. At least we weren't skunked (that's my story and I'm sticking to it!).

The best part of the day was the BBQ after the Classic!!!!!!!!!!!!!! Korean BBQ, carne asada, brats, hamburgers, potato salad, chips, drinks, "beverages" were had until we could eat no more. Then, some birthday pie was brought out to celebrate Christina's birthday (Tom's MUCH better half). Happy birthday, sorry for the awful singing, but we're carpers, not singers!

CONGRATS to Dave24, as he, for the second year in a row, was the points winner for the club's "Carper of the Year" award AND the Classics Champion!!! One day you and Jered will let the rest of us win at least a piece of those titles, lol!

Vedat won second place with a good showing of float fishing.

The rest of the qualifiers for the Classics included Jered, Charles (gonefishing), Brian (carpdog), Tom (austrian), Robert (Fishinfanatic315), Mike (Chuman), and myself.

Jackpot fish also went to Dave. I can't remember what the total jackpot was, but it went well over $100. Dave donated a portion back to the club's "Junior's Program" and will be using another good portion of it to maintain our club's website. THANKS DAVE!!!!!
The infamous R/C Boat returns...

Puddingstone May 2007

The majority of those that attended met in the parking lot of the east shore of Lake Puddingstone and headed towards the shoreline to set up. It was a chilly and overcast morning, perfect I thought. Just a few fish jumping and rolling, nothing to get the blood going. Still, a very peaceful morning.
As for the fishing, all I can say is that today must've been Tom's (Austrian) birthday because this dude was on FIRE! Tom, I hope you bought a Lotto ticket today because the Gods are with you brother! I mean the man had 3 Personal Bests today!!! Just awesome!!!
Almost all members landed fish. Unfortunately for the Jrs Division, they did not fare so well. But I am happy to say that all kids that attended stuck to their guns and only fished for carp, and not for any of the other inferior fish loaded in that lake! Cheers kids!!!
During the derby there was one "genius" that thought it would be a good idea to play with his remote control boat right in front of us. This TARD had his boat going back and forth in front of our lines for a good 15-20 minutes until he took a turn too fast and flipped. Not only did our members laugh and cheer when this happened, so did EVERYONE else on the shore having a nice day by the lake! The boat was upside down and taking on water until it was just floating in the water, the bow of the boat pointing to the sky. The boat became a buoy! And to make it even better, the lifeguard came by and told the Santa Claus wannabe to move. Unfortunatley, he also saved old Saint Nicks boat...

Okay, and now the results:

1st Place - Austrian (Tom) - 5 fish total of 75.08lbs! 14.02, 16.03, 13.07, 10.13 & 20.15. Total weight 101.13lbs - 9.00, 10.12 & 6.09. Great job again Tom!

2nd Place - Jered - 3 fish total of 50.15lbs - 17.00. 12.05 & 21.10 (JP Fish). Special thanks to Jered for donating his JP winnings back to the club so the Kids program can continue! Thanks Jered!!!

3rd Place - Carpdog (Brian) - 2 fish total of 30.13lbs - 14.12 & 16.01.

4th Place - Yliu (Eric) - 1 fish total of 16.14lbs.

5th Place - FishStoriesJR (Jon) - 1 fish total of 8.11lbs.

6th Place - Mrs. FishStoriesJR (Heather) - 1 fish total of 8.01lbs.

7th Place - Me and Sco for making an appearance! And Caitlyn, Brandon and Ray for giving their best for the Jrs!
One of FishinFanatic's winning fish...

El Dorado April 2007

FishinFanatic315 is the winner of this month's derby at El Dorado Park. We all met up outside the park before the 7am opening and there was an unusual amount of cars in line to get in. Turns out that it was Cambodian New Year's Day and they had reserved the entire half of the park where the larger two lakes are located. They needed it to because I would estimate about 50,000+ showed up for the carnival they had set up over there. So we all moved reluctantly to the smaller pond near the entrance. Turned out to not be so bad though because the morning bite was really good. We ended up landing 9 fish total as a group and lost a couple others. The bite completely shut off around 10 am though probably due to the pressure and we only had one fish in the late afternoon. Carpdog ended up with the jackpot fish with a really nice sized common for that lake that weighed in at 14.2 lbs. Congrats to the winners and we'll see you next month.

Here are the results:

1st Place - FishinFanatic315 - 3 fish total weight of 26.0 lbs. (12.0,9.11,4.5)

2nd Place - Jered - 2 fish total weight of 20.12 lbs. (11.8,9.4)

3rd Place - TallNBritish - 2 fish total weight of 17.9 lbs. (8.4,9.5)

4th Place - Carpdog - 1 fish total of 14.2 lbs. (jackpot fish)

5th Place - Dave24 - 1 fish total of 8.14 lbs.
Lake Perris March 2007

It was a bust! No fish, not even a bite. But it was a really beautiful, HOT day and it was great seeing Dave(24), Jered, Tom(Austrian) and his wife again. Funniest part of the day was three catapults going the way of the Do Do! Can somebody please teach me how to use these things without me bleeding???
Vedat's Jackpot fish...

Yorba Regional February 2007

This month the club met up at Yorba Linda Regional Park as we do every February. The morning was really cold and so was the bite for the most part (except for the trout). Late in the morning I finally got a good run that ended up being a nice 13lb. 8oz. common. A little while later Vedat hooked up and landed a 13lb. 12oz. common which ended up being the jackpot fish. Early in the day we decided the river adjacent to the lake was in bounds for the derby. So late in the day I went over to check it out. Ended up being a good idea because I was able to land 2 fish fairly quickly. Didn't stay over there too much longer because it was hot fishing on the cement with the sun beating down. Sco finished out the carp catches for the day with an 11lb+ common towards the end of the day. Overall it was a really nice day and it was nice fishing with everyone again despite the tough conditions. Thanks to Vedat for donating the jackpot back to the club and it will go towards prizes for future kids prizes.

1st Place - Dave24 - 3 carp with a total weight of 17 lbs 8 oz. (13.8,2.8,1.8)

2nd Place - Vedat - 1 carp weighing 13 lbs. 12oz.

3rd Place - Sco - 1 carp weighing 11 lbs. 6oz.

Also attending - Wayne,Uh_huh,FishinFanatic315,Austrian,NirvanaFan,Brandon,David)

In the Kids Derby, no carp were landed this month, but they were able to land some trout and Sco's son, Brandon, took first with 3 trout landed. Wayne's son, David, took 2nd with 1 trout landed. Thanks everyone for coming out and hope to see everyone next month at Lake Perris.
Sco's Jackpot fish...

Huntington Central Park January 2007

Fishinfanatic315 is the winner of the first derby of '07. Congrats Robert for coming out on top on a pretty tough day of fishing. The day started off with the club meeting in the parking lot before sunrise and we all set off in the dark to our planned locations. We got set up and got the rods in the water at about 6:00. The fish were very active early but the bites were fast and a lot of them didn't stick. We were able to get a few to hang on long enough to hook and we had 5 fish caught by 7:30 am. The rest of the day it was a slow pick with about 1 fish caught per hour by the group. Sco took the jackpot with a 6.10 lb. common. Congrats Sco! Brandon took the Kids division and ended up third overall with 2 really nice fish as well! Great job! Definitely a more active bite than we have had the last few derbies, so maybe this location is a better one for the "cold" So Cal winter months. Here are the final results. Thanks everyone for coming out and it was a really enjoyable day despite the tough fishing. I will post the pics soon.

1st Place - FishinFanatic315 - 3 fish total of 14.1 lbs. (5.0,5.0,4.1)
2nd Place - Dave24 - 3 fish total of 13.1 lbs. (4.5,5.0,3.12)
3rd Place - Brandon (Kid's Derby Winner) - 2 fish total of 12.8 lbs. (6.0,6.8)
4th Place - Sco - 1 fish total of 6.10 lbs. (Jackpot fish)
5th Place - PargoLSB - 1 fish total of 5.4 lbs.
6th Place - Jered - 1 fish total of 4.4 lbs.
7th Place - TallnBritish - 1 fish total of 2.10 lbs.

Also attended - Gonefishing,Austrian,Acontici,Uh_huh