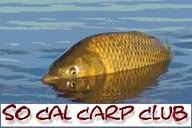 Club Store
The Juniors...

Lake Balboa December 2006

All I can say is that I was reminded today that this is DECEMBER!!! Cold, windy, rainy, and the carp vacationing in Florida! The only ones that Mother Nature didn't beat upside the head was Charles and the SCCC juniors! Good job to them!
The derby started a little after 7am with AndrewH, Charles (gonefishing) and his daughter Kacey, Richard (pargo lsb) with this daughter Natalie, Joe (TallNBritish), Brian (Carpdog), Tom (Austrian), Rick (Chpcode3), Dave24, Jered, Dave (uh_huh), myself and my kids Caitlin and Brandon. It was good to see a nice group together despite the ominous weather prediction.
It was really interesting to see the mix of carping styles used today: light line, euro, and canepole. All we needed was a fly fisherman and we would've covered the bases.
The catching started off with Caitlin landing a small tilapia. Natalie and Kasey soon followed suit with many more of them. Brandon got off to a late start, but got into them as well. In the meantime, the rest of us could only watch the kids' success. After several hours, many of us packed up and moved to a different location. The move didn't help any of us except for Charles, who was using his canepole. This style of fishing looks so simple, yet there is so much to it. One of these days, I'll pester Charles enough where he'll teach it to me just to get me off his back! Charles persistence resulted in 3 silver (Crucian), as well as a plecostomus (an algae eater that you can buy at tropical fish stores).
Mercifully for the rest of us, the derby ended and the winners received their hard earned victories!

Natalie won with a total of 11 fish!

Kacey came in second with a total of 9 fish caught.

Brandon came in third with a total of 4 fish.

The winner of the adults was Charles, who clearly outfished the rest of us today. Good show of carping today! Charles also donated his jackpot winnings back to the club's junior progam! THANKS Charles! The individual donations from club members and jackpot donations allowed the kids to win $50, $30, and $20 gift cards to Toys 'R Us!!! Each junior also received a Christmas stocking stuffed with holiday goodies! Certificates of Participation will also be on their way! Thanks to all that donated this month. The smiles on the kids faces really are worth every penny!
David and his prize winning fish...

Lake Perris November 2006

After a late start at home I managed to get to Perris Lake around 8am to find everyone already there with their lines in the water. It was an overcast morning with fog still on the water and a slight breeze. The morning bite was slow but from what I was told, fish were boiling/jumping allover earlier so there was a lot of hope. However hope was starting to dwindle as hour after hour there was no action with the exception of a few beeps from bite alarms and an occasional splash from a jumping carp. But just before 11am Sco had a good hit and the fish was taking line from his baitrunner! After a brief tug of war Sco brought to the net a 22.09lber! About an hour later Sco hooks up again. I'm not sure but I think this fish was the one that was lost right at the net! During this battle Wayne and son David also had hook ups, but unfortunately, the fish escaped. Wayne's fish did something to rip through his 50lb test braid! It was another waiting game.

Wasn't able to take any pics but during this waiting period, A LOT of fish were lost! Sco lost 4, Wayne lost 2(?), Jered lost 2, Keith lost 1(?) and Kristen lost one. And then again, the derby was over. Results are as follows:

First Place - Sco with 1 fish at 22.09lbs.
Second Place - Wayne, Steve, Jered, Keith, Tom, Joe, Kristen and myself.

On top of winning the derby, Sco also won the bankstick with bite alarm graciously donated by Wayne of the American Carp Society.

For the Jr's. Division, David Boon was the winner of a $40 gift certificate to Toys R Us for landing an 18lber!
Ketamine with one of his many fish...

Lake Castaic October 2006

After a 60 mile drive to Castaic Lake from Cerritos, Jered and I arrived to a line of cars that was WAY too long. After parking in a different area code we walked down to see if we could find anyone since the gates wouldn't open for another 45 minutes or so. Saw a bunch of members and the usual BSing began and laughs were had by all. The gates finally opened and we were all headed to the parking lot and the dreaded walk on the dam. DAMN, that walk on that damn dam was really damn long! And that damn walk down the dam to the water was scary, especially with all the gear. Well, baits in the water and lines were put in and the derby was on.

Mike's (Ketamine) group, his son Joey and friends Fred and Randy, started hooking up to fish immediately. That group lost as many fish as they landed and they had the fish zeroed in. Mike, Fred and Randy had fish landed and put on the books. Jimmy (Umoa) was right as they stocked the lake heavily with trout as there were schools swimming up and down the shore where we were fishing. There must've been some blind fish in these schools because the only hits I had were trout swimming into my line! The bass fishers were out in force too this morning throwing their huge swimbaits for at least two hours for nothing.

It was a long, cold and overcast morning. Richard (Pargo LSB) was next to hook up and somewhere during that time, Joey landed two trout to take the lead in the Jrs division. Sun finally showed up around noon and stayed out for the rest of the derby. Not sure if it was maybe the sun coming out but the stripers started boiling. Not a lot but enough for people to say "did you see that, what was that?" And right before the derby ended one guy at the end of the dam did land a 7+lb striper. Nice fish. Two o'clock rolled around and another derby was done. Here are the results:

1st Place - Mike (Ketamine) with 3 fish for 48.06lbs (20.14, 13.00 & 14.08).
2nd Place - Fred with 3 fish for 35.10lbs (9.00, 15.10 & 11.00).
3rd Place - Richard (Pargo LSB) with 1 fish for 9.10lbs.
4th Place - Randy with 1 fish for 9.00lbs.
5th Place - Chuman, Jaske02, Jered, Sco, Carpdog, Austrian and wife, Gonefishing, Yliu, Wayne, AndrewH, Boss Man Karl, Horgaszapacan, Joseph, FishnFrk and yours truly.

For the Juniors division:

1st Place - Joey with 2 trout
2nd Place - Ray and David Boon
Irvine Lake September 2006

It was a beautiful and chilly morning when we all met up at the tackle shop at Irvine Lake. Met new members Chuman, Eric (Yliu) and his son Ray, along with Charles (gonefishing), Sco, Brandon, Tom (Austrian) & wife, Matt, Wayne and Andrew. It was almost time for the derby to begin so we all headed to the West Shore and began the derby. Thirty minutes into the derby Claudia is hooked up, but unfortunately, the carp spit the hook just as it was about to go into the net. I estimated the fish to be about 4-5lbs. Thought we were on a good spot and that we were going to have a good derby. Boy was I wrong and it was a long, long, HOT day.

My brain's a bit fried and very tired so I'll just post the results of todays derby and hopefully others can add on with pics:

1st Place - Chuman - 4 fish for 30.13lbs (5.07, 5.13, 4.13 & 14.12)
2nd Place - Yliu - 2 fish for 11.14lbs (7.10 & 4.04)
3rd Place - Charles (gonefishing) - 1 fish for 5.11lbs

4th Place for attending - Jered, Sco, Wayne, AndrewH, Tom (Austrian), Matt, Superkingfish, Robert (fishinfanatic), Claudia and myself.

The kids that made it out today in the heat did well for the following results:

1st Place - Brandon with 7 bluegills and 1 shad.
2nd Place - Ray with 1 catfish and 1 carp at 5.07lbs.

Great seeing and fishing with everyone again and meeting new members Chuman, Eric (Yliu) and his son Ray. It was fun and we hope to see everyone at next months derby at Castaic Lake!
Taylor waiting for a bite...

Laguna Niguel August 2006

This month's derby turned out to be the the day of our junior members. Can't say too much for the results of the adults, but the kids certainly ruled the day!

The derby started out with the participants meeting at 6am at Laguna Niguel Lake. I had the pleasure of meeting Austrian (Tom) and his wife and AndrewH and his wife. Two more quality families that make up this outstanding club!!!

The derby started at 7am. It was a nice, cool morning and it sure looked like it was going to be a good fishing day.

Well.....I was half right. Despite the best efforts of the adult club members, the carp eluded us today. It was a different story for the off-species though. Charles (gonefishing) and Richard (pargo lsb) started off by slaying some nice crappie and slab bluegill. There's going to be some good dinners at those households tonight!

Fortunately, it was determined that the junior's derby would be made into an all-species event, and they took full advantage of it! It was really good to see that every Junior that fished this event landed something today!!
As the day wore on, the sun really started to bake everyone. But to the junior's credit, they stayed at it! It was great to see their interest in fishing. I think that all of us would like to congratulate the following Junior members for their efforts and success today:

Taylor (Dave24), David, Joey, and Sofia (uh_huh and Claudia), Kacey (gonefishing), Natalie (lsb pargo), TJ (great friend of FiShInFaNaTiC315), and Brandon (Sco).

These 8 Juniors put a good hurting on the fish today!!!

The results for the Juniors are as follows:

First Place and winner of a rod/reel combo.......TJ! TJ won with a total fish count of 21 bluegill and 1 largemouth bass!

2nd Place and winner of a nice spinning reel.........Brandon! Brandon placed with a fish count of 12 bluegill and 1 largemouth bass (plus one turtle, lol!)!

3rd Place and winner of a tackle box.......Kacey! Kacey showed with a total fish count of 9 bluegill!
David with his junior winning fish...

Big Bear July 2006

Well it was another great derby at Big Bear with almost everyone getting into the action. The derby was decided by the top 5 heaviest fish landed. Congratulations to Carpdog for winning first place and congrats to Claudia for taking the jackpot! The kids also had a great time and definitely held their own as well. I'm exhausted right now so I will post the official results and let everyone else add their pictures and comments. It was great seeing everyone again and also to have the chance to meet some new members as well. We are planning on having the August derby at Laguna Niguel Regional Park and the details will be coming soon! Hope everyone can make it out again.


1st Place - Carpdog - 5 fish total of 24 lbs 5 oz. (5.6,5.2,5.0,4.9,4.4)
2nd Place - Dave24 - 5 fish total of 22 lbs. 10 oz. (5.0,5.0,4.10,4.10,3.6)
3rd Place - Sco - 5 fish total of 19 lbs. 13 oz. (4.7,4.3,3.15,3.14,3.6)
4th Place - Claudia - 4 fish total of 18 lbs. 8 oz. (8.1,4.7,5.4,2.12)
5th Place - Gonefishing - 5 fish total of 17 lbs. 7 oz. (5.2,3.10,3.10,3.8,1.1)

Other anglers that participated:

Karl, Uh_huh, Bulldog11, Nirvana Fan, FishinFanatic315, Austrian, Chpcode3, VDUBBUB86,Kenji, Chris, Wayne, Smifster, Steve, EJB, Jered, Abigail, Matty, K.C., Mini-huh, Jogy, Sofia.
One of Dave_24's winning fish...

Carp Classic 2006

Here are the official results of the 2nd Annual So Cal Carp Club Classic Derby:

1st - Dave24 - 4 fish total of 35 lbs. 8 oz. (9.0,8.13,8.9,9.2)

2nd - Jered - 1 fish total of 10 lbs. 1 oz. (Jackpot)

3rd - FiShInFaNaTiC315 - 1 fish total of 8 lbs. 14 oz.

4th - Sco - 2 fish total of 3 lbs. 5 oz. (2.5, 1.0)

5th - Gonefishing - 1 fish total of 2 lbs. 14 oz.

Other anglers attending - Uh_huh, Nirvana Fan, JC Lee, CarpDale, Evan, Leonid_72, CarpDog

Now the report -

The weather was really good for fishing with overcast skies and a very light breeze throughout the day. The catching was a different story though. It was a pretty tough bite for most of the day but it was nice to fish with everyone again and the food was really good too. Jered took the jackpot with a 10.1 lb. fish late in the day out of Lake 3. Most everyone else fished Lake 2 most of the day. Thanks to everyone that brought food and drinks. Everything was awesome. Thanks to Gonefishing also for the fishing rod and the trophies. Hopefully I can put that rod to good use soon! Now I have to go out and buy a reel.
One of Carpdog's fish...

El Dorado May 2006

We all met up at lake 3 to get the morning started. I got a late start and was speeding through the park to begin this little derby only to be pulled over by Ranger Rick. I had no idea that park rangers could do that. Anyway, after about a five minute lecture and a lot of "yes sir, no sir, didn't know that sir, thank you sir" I was parked and getting set up. Everyone with the exception of TallNBritish, Kristen, Dave24 and myself were set up right by the "hot spot." It looked like SARL during trout season!

Throw my corn line in and as I'm preparing my dough line, I get a nice slow pull but set the hook on water (hate doing that!). Reel that in, finish up my dough rod and cast it out. While putting more corn on I get another good pull and AGAIN set the hook on water! Looks like it's going to be a good day but I was wrong. Bite slowed down pretty quick after Nirvana Fan and Carpbreaker lost their fish. Dave24 says he's going to lake 1, so I told him that I would meet up with him soon (because i put a lot of food in the water). Carpdog comes up and tells me that Dave24 just lost three at lake 4. Nothing more going on in my spot so we pack up and leave.

SLOWLY drive over and set up in an open area. Carpdog was on a fish but it broke off at the net. After a while he's on again, this time landing a 12.2lber. After that, he's on again with another 12.2lber. And then, he's on another fish that actually spooled him! Dave24 said it sounded like a 20lb snap! Dave had to leave, Jered came and after a while of nothing, we headed to lake 1. To make it short, a few bites, Carpdog almost lost a finger and the derby was over. Results:

1st Place - Carpdog - 3 fish at 38.02lbs (13.14, 12.02, 12.02)

2nd Place - Everyone else - Sco, Brandon, Dave24, Jered, Nirvana Fan, JBlaylockRayner, Carpbreaker and friend, TallNBritish, Kristen and yours truly.

As always it was great seeing everyone again.
Taylor's 25lber...

El Dorado April 2006

Well, it was a great day and it was exactly how we anticipated the derby to be, an early morning bite. And boy was it. Dave24 had lost two nice fish right off the bat. Then it was Carpdog's turn. Then all of the sudden, Dave's daughter Taylor is on! This fish was taking, I mean BURNING drag big time but like a champ she held on. But daddy was a little worried (because he's still using 2lb test on a micro reel!) so he came to help.
Now it was really quiet so around 9am Dave, Taylor, Sco, Caitlyn(sp?) and Brandon head off to lake 1. Carpdog, Carpbreaker and I stayed a little longer hoping that some more pigs were still around. We left about 20 minutes later after I received a phone call from Sco saying that Dave just landed a 9.10lber! What, out of that little lake??? We arrive just in time to see Taylor on again, a gorgeous 11.7lber! Unbelievable! Half an hour later, she hooks and lands another 8.2lber and that was it. Final tally:

1st Place: Taylor - 3 fish (25.0, 11.7, 8.2) total - 44.9 lbs.

2nd Place: Dave24 - 2 fish (15.0, 9.10) total - 24.10 lbs

3rd Place - Carpdog - 1 fish total - 24.8 lbs.

4th Place - Sco, carpbreaker, Caitlyn, Brandon and uh_huh for attending.

Congratulations to everyone! Taylor for winning the derby, winning the jackpot and a new PB. Carpdog for his new PB! It was a blast, see you all at the next derby!
Turtle Time...

Legg Lake March 2006

Okay, here are the results:

1st Place - uh_huh with 2 turtles for about 2lbs.

2nd Place - Jered and Sco tied with a turtle a piece (Sco won the jackpot with the biggest turtle).

3rd Place - Nirvana Fan with a plastic bag and a twig.

That's right, we all got SKUNKED!!! Zilch, nada, zip! Everyone got there early only to find out that the gates weren't open and did not open until 7am. That south lake at Legg is big, I was surprised at the size. Everyone started fishing the same area and as time went on, everyone started moving. The entire lake was basically covered considering there were only six of us - that's a lot of walking. Two o'clock FINALLY rolled around and CARPDOG and newcomer Carpbreaker had to leave. The rest of us packed our gear and fished the middle lake for an hour for nothing. Unbelievable that not one fish was landed but I guess it was just a matter of time. Still, it was great seeing the regulars (Jered, Sco, Gloomisboy, Carpdog and Nirvana Fan) and meeting newcomer Carpbreaker. I was sure he was going to win the derby (first derby and a regular at Legg). Well, until next time!
Dave's winning carp...

Yorba Regional February 2006

Uh_huh was the first to land a fish and it went just over 12 lbs. After getting bites all day and not being able to land a fish, I finally hooked up right before I had to leave and was able to land a 15 lb. 11oz fish. Put up a really good fight. Everyone was getting bites pretty much all day but it was really light and quick. Leonid lost a nice fish that made a pretty good run early in the day too. It was nice fishing with everyone again and thanks to Carpdog for all the fruits and veggies.

Final results:

1st Dave24 - 15.11lb

2nd Uh_huh - 12.5lb

3rd Carpdog, Nirvana Fan, Jblaylockrayner, Slims, Leonid & Bulldog
Puddingstone January 2006

It was great to see everyone out at Puddingstone today! Had the pleasure of meeting a few new club members today, GLOOMISBOY, CARPDOG, and TallNBritish. Also great to fish with Dave24, uh_huh, Nirvana Fan, jblaylockrayner, and CarpDale once again.

The morning started out well. The forecasted windy weather didn't show, but it sure was cold! Within 10 minutes of starting, Dave and I hear a yell and some splashes down the shoreline. We look up to see GLOOMISBOY landing his 2+ LMB. He was so happy, you would've thought he won the derby, lol! True basser at heart...fishing a carp derby but throwing the Dshot for bass as well.

10 minutes later, we hear over the radio that CARPDOG is hooked up onto a nice-sized carp. About 15 minutes later, we hear 17.2lbs! Awesome way to start! Then the bites starts across the whole shoreline for about 45 minutes. I landed my 12lber during this time and missed several other bites. Dave had a nice one, but lost it when his hook snapped in half! Seemed like a really nice fish too! CarpDale reported losing a nice carp to a breakoff and others reported some runs as well. THEN...... the bite died. We couldn't buy a carp bite after this little flurry. Dave though, was able to hookup and land 2 coots!

Anyway, not the action we were looking for, but lots of fun just being out with you guys and shooting the bull a little. Great day and nice scenery too at the Pudd. Enjoyed it a lot!